---
---
This item is now sold out / retired.  This page is for reference purposes only.
The Bitcoin Lightning Network White Paper Typography, previously printed on 100 lb paper as well as mounted canvas, which completely sold out, is now available on an entirely new medium - Metal!  The art is printed on a lightweight aluminum panel.  Because of the black and white design, it offers for a very sharp, metallic, and reflective surface - it looks almost like glass, or an LCD Television. 
The piece includes 1/2" wood spacers to allow for it to stick out from the wall.  This piece is limited to only 10.
Panel measures 30 inches by 20 inches.
Each panel is hand signed and numbered on the back.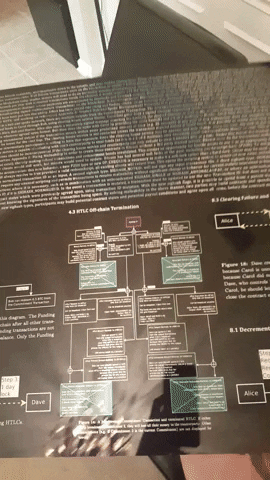 Check out this GIF to see how reflective it is:
---