---
---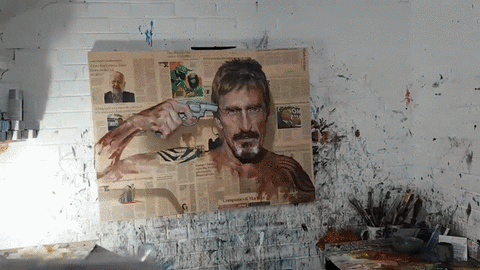 We are pleased to present an incredible conversation starter - the augmented reality John McAfee canvas, created by artist Trevor Jones.  This artwork, when used with the app CreativMuse (available for both Android and iOS platforms) animates with full video and sound.  The canvas itself measures 40"x30" inches and has a 1.5" inch depth.  It is hand stretched and mounted around a wooden frame.  Limited to a production of only 10 and includes a hand signed and numbered certificate of authenticity.  
After you've received your artwork, download the CreativMuse app on your smart phone to experience remarkable augmented reality.
CreativMuse app available here: https://creativmuse.com/
1. Download the app to your device
2. Point your device at the artwork
3. Click 'Start scanning' - enjoy the augmented reality experience
*PLEASE NOTE: If you are a customer outside of the USA and are looking to ship this item overseas, due to it's size, we are required to ship via DHL and cannot offer free shipping.  Please email us prior to your order so we can provide you with a shipping quote.  Our contact is:  info (at) lynxartcollection.com  
**Please allow up to 10 days for production of this item.
---