---
---
This item is now sold out.  This page is for reference purposes only.
Currency Independence - Remove yourself from the centralized banking system and be in control of your own finances!  We've partnered with HODL Crypto to bring their beautiful artwork to our exclusive metal panels.  This piece is extremely detailed and is full of both hidden messages as well as multiple layers of vivid, intricate workings. 
This panel is limited to a production of 10 metal panels, never to be printed on this medium ever again.  Each panel is hand signed and numbered on the back.
Metal panels measure 20"x30" inches, weigh 4 lbs, and include 1/2" wood spacers to allow them to sit away from the wall.  Metal panels are extremely reflective and look very similar to an LCD screen; it's almost as if you can see THROUGH the art!  Panels are hand signed and numbered on the back.
Check out this GIF to see just how reflective it is: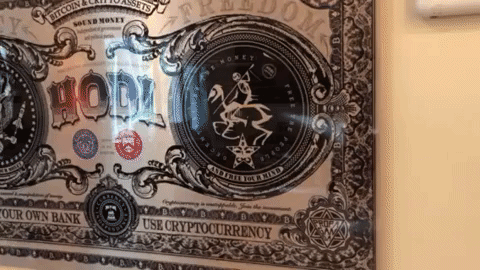 ---