---
---
This is a pre-order.  This item will begin shipping on October 1st.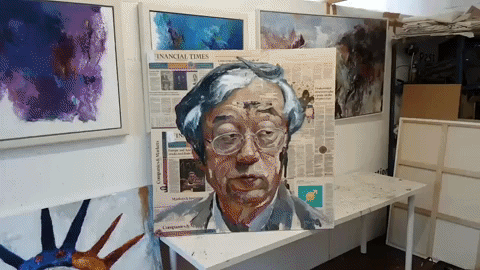 We are pleased to present an incredible conversation starter - the augmented reality Satoshi 'The Architect' canvas, created by artist Trevor Jones.  This artwork, when used with the app CreativMuse (available for both Android and iOS platforms) animates with full video and sound.  The canvas itself measures 24"x24" inches and has a 1.5" inch depth.  It is hand stretched and mounted around a wooden frame.  Limited to a production of only 21 and includes a hand signed and numbered certificate of authenticity.
After you've received your artwork, download the CreativMuse app on your smart phone to experience remarkable augmented reality.
CreativMuse app available here: https://creativmuse.com/
1. Download the app to your device
2. Point your device at the artwork
3. Click 'Start scanning' - enjoy the augmented reality experience
Check out the video of what the AR experience looks like, here: vimeo.com/290935587
---